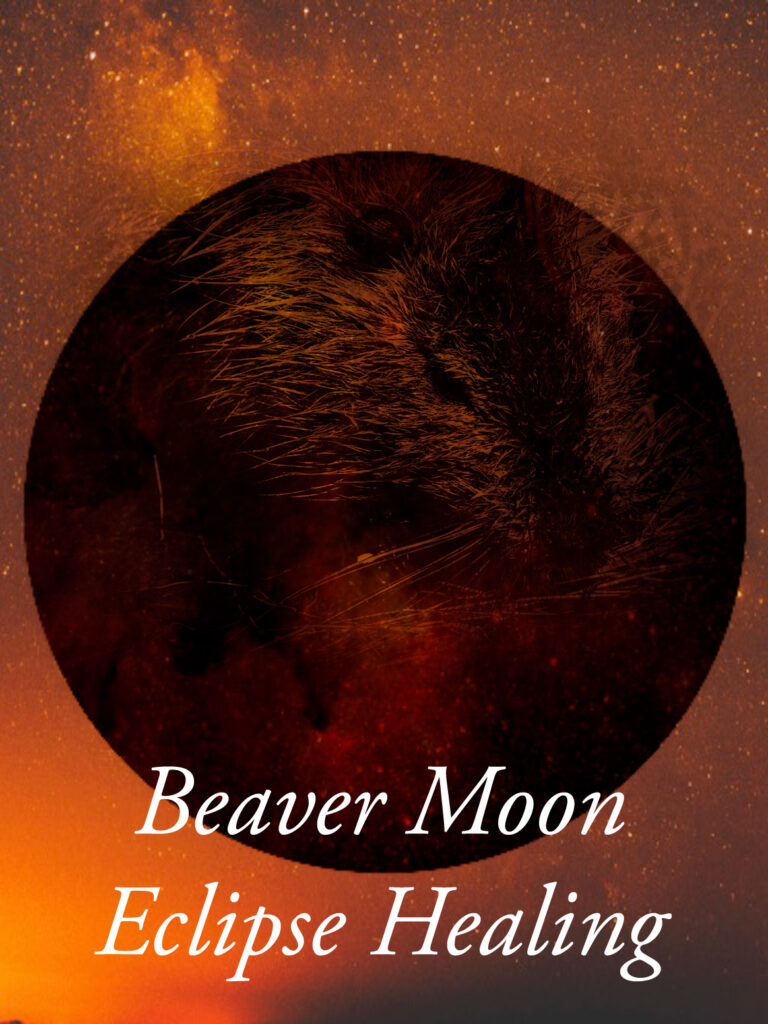 This is another of our run of special moons! This time we have the Total Lunar Eclipse, Blood Moon, in Taurus. This will be another really long eclipse like in May this year, and it looks like it's the last blood moon for a while. It is certainly the last eclipse of 2022.
What's special about an eclipse? Well it certainly heightens any energy of a normal full moon. It also creates extra challenges and sets us further along our path. It brings things to surface and shines light on problems and solutions in extraordinary ways.
You may still be dealing with energies from the previous eclipse just a couple of weeks ago. The time between two eclipses can be tough! And the effects can ripple on for a while.
This full moon is also known as the Beaver Moon! Named partly after the time of year when Beavers get busy building lodges and dams for the winter ahead. So we may find we are in the mood for restoring our homes, tidying and preparing for winter. This brings in some of Taurus energy for calm home life, security, self-nurturing. It is also known as the Frost moon, and yes it can be pretty chilly around now.
We are in Scorpio sun star sign season so that frost energy might be a little stinging cold, and empathic / psychic traits may be on the rise! You might feel a little ambushed by bullish or stinging energies with the combo of Taurus and Scorpio. If so I would say it's better to seek out the quiet of the moon in the dark of the eclipse. Maybe duck and cover in one of those nicely made beaver lodges if you feel a little overwhelmed or pushed about by life.
I'd like to send healing this week with the following crystals and herbs ~
* Lavender for calming and protective energies
* Tea tree for clarity and also protection, the full moon will be bright but the eclipse will block some of the clarity at work. Eclipses can be confusing times
* Green Aventurine for loving, soothing, calm vibrations
* Blue lace agate for gentle clarity for when the moon shines strongly!
* Healing with Beaver spirit to help you build your dreams
* And of course healing with the moon energies and eclipse energies too.
This healing is available for the usual £4.99/person for one week. I'd love to share this with you.
Much love
Katy xxx
~ Live Life with Love ~
To book your healing with me, please use either of the following links here:
http://www.firebeans.com/?p=5%2ESend+a+Payment
Please select the correct amount from the drop-down menu where it says £4.99
♡♡♡