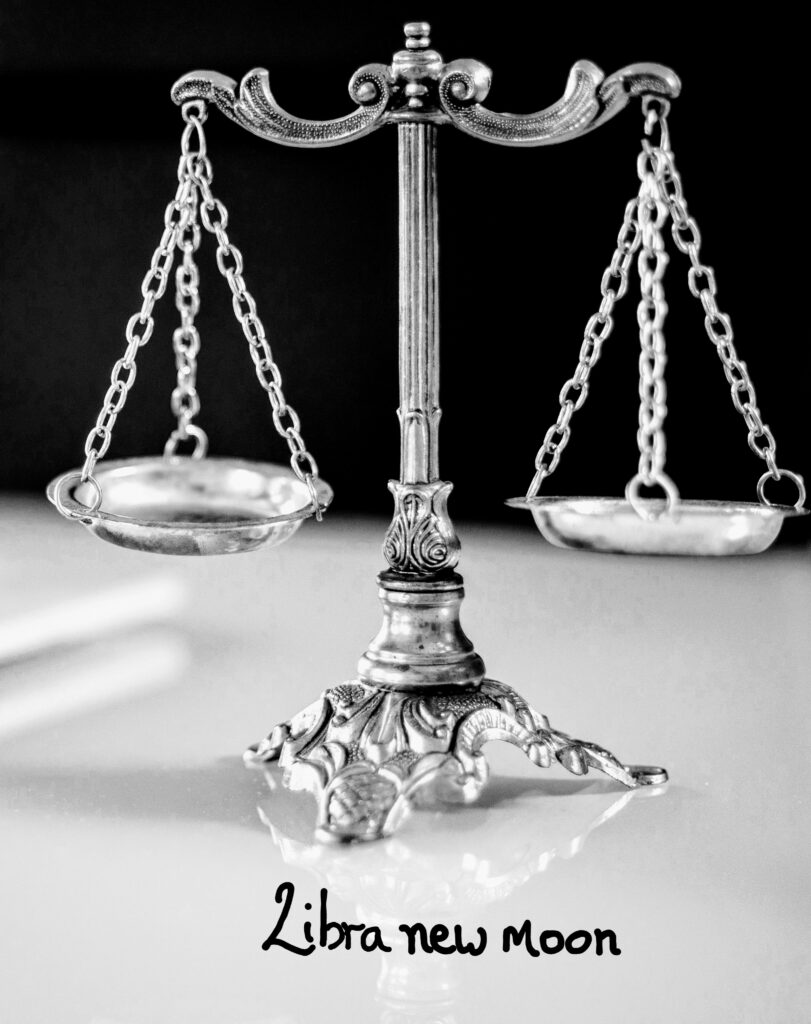 This new moon is an interesting one as it is in Libra coupled with Mercury Retrograde in Libra too! So we have a super double Libra effect going on! This makes the Libra aspect of Balance all the more essential right now. Also important is nitty gritty details which may need checking carefully at the moment because of Mercury Retrograde playing tricks.
You may be finding you're having to balance a lot, perhaps it is a juggling act! But finding your own key way to find balance will help you thrive in whatever you're doing.
But remember you need balance to make things balance! You can't create balance in a one-sided way (imagine a seesaw, or the Libran set of scales, one side heavy does not lead to balance). Also beware of getting too detailed and obsessive about getting into balance. That's an oxymoron: obsessive balance.
So say you have a complex goal to achieve. One that can't be done in a moment but will take time. You need to approach it with balance rather than burn out and go full steam. With Mercury in retrograde the energies might be waiting to trip you up and send you flying backwards! There may be energies pushing you to "succeed immediately" when you need to take the tortoise approach rather than the hare.
You may need to balance your left and right brain. Or question if this is the right moment to push for your goals, or whether you need to instead rest and conserve energy? It can change in a moment, so stay aware of this.
So the Libra energy will be pressing you to find balance in a balanced way. But Mercury Retrograde may be looking for an opportunity to teach you the importance of this lesson through disarray! Do we need to learn the hard way? Or can we embrace Libra instead?
I'm guided to work with Rainbow and Rainforest energy to help this Libra balance energy this new moon! All the colours of the rainbow working together in harmony. The rainforest energy will help cleanse energies and blocks in your path, so the sun can come out and cast rainbows across your path!
I will also work with hematite to keep you grounded and more able to sense if you're pushing too hard or not sensing negative influential energies around you, including Mercury Retrograde trip-up tricks!
Gaia energy would also like to be a part of this healing as balance is so key to Earth health right now, more than ever, in so many ways! A little healing for you with Gaia will help heal the planet as all our energies are interconnected and in balance together as one 🌎❤️
And finally Mouse spirit also wants to be a part of this healing, to help you balance detail. To be accurate, detailed and scrutinise things when needed, or to let go of becoming obsessed (it happens to us all!).
I hope you like the sound of this healing! I'd love to send this to you for one week at the usual price of £4.99/person.
I can also add in some colourful citrine for Hope and Success energies, adding a little extra light to the dark if you feel you are needing greater help, for some magical sparkles in your life!
Much love and moon blessings
Katy xxx
PS some crystals love to moon bathe on a New Moon! For extra magical energy ❤ And pop some hematite on your windowsill these nights to help embrace Libra.
~ Live Life with Love ~
To book your healing with me, please use either of the following links here:
http://www.firebeans.com/?p=5%2ESend+a+Payment
Please select the correct amount from the drop-down menu where it says £4.99
♡♡♡